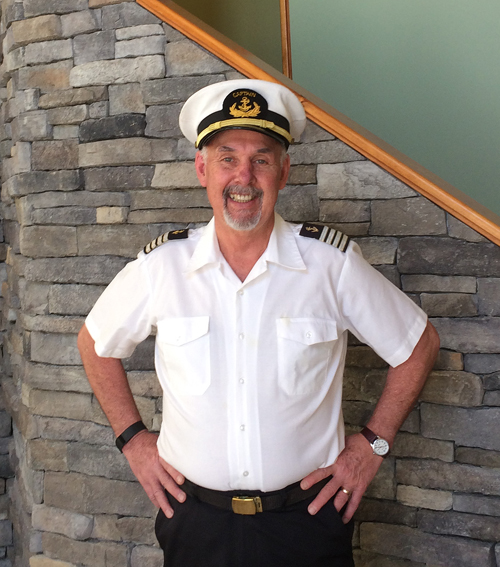 Sometimes there are people who consistently and quietly make a difference in the lives of many. Meet Steve Boyce, a Ticonderoga native who has been involved in the lives of young people for decades.  From the beginning of his career as a teacher at Ticonderoga High, to his current job as Program Director for the College For Every Student program (see more about Steve's involvement here) Steve has been giving back for a long time.
About Steve Boyce
Career
1971-2004 Taught High School social studies at Ticonderoga High School; also served as Dean of Students, Curriculum Coordinator, and interim Principal.
1980-2002 Adjunct faculty North Country Community College, teaching a number of courses, including Adirondack History.
1981-present   Captain of the Steamboat Minne Ha Ha, Lake George Steamboat Company.
2005-present  Program Director, College For Every Student.
Family
Married to Sylvia Hanchett for 47 years. Three children:  Cari Boyce, Steve Boyce, Seanna Boyce Porter and three grandchildren,
Current Community Involvement
President  Ticonderoga Heritage Museum
Vice President  Ticonderoga Alumni Association
Black Watch Library Board
Secretary Mount Defiance Lodge
Member Silver Bay Board of Directors
Member Ticonderoga Kiwanis Club
More about Steve Q & A: 
Q. What is your favorite thing about living in Ticonderoga?
A. The natural beauty of the area, the great history, and being close to our grandchildren (not in that order.)
Q. What are your hobbies?
A. Sylvia and I love to walk and go boating. For frustration I bowl and golf.
Q. Most memorable part of being Captain of the Minnie Ha Ha?
A. The most satisfying thing about being Captain on the Minne is giving kids a ride on the boat and having them bring their families as adults. That's followed closely by all the great people I've worked with over the years.The most exciting exciting experience was being interviewed on the Today Show (I've blocked out the exciting storms and bad landings.)
Whether you call him Steve, Mr. Boyce or Capt. Boyce, be sure to tip your hat to Steve Boyce when you see him out and about!
Related Posts:
(adsbygoogle = window.adsbygoogle || []).push({});