Don't Miss Ticonderoga StreetFest 2016 !
The Ticonderoga Montcalm Street Partnership has announced that they will host the 8th Annual StreetFest in Historic Downtown Ticonderoga on Saturday, July 30, 2016 from 10:00 AM to 3:00 PM.
The 2016 StreetFest will include shopping, sidewalk sales, non-stop live entertainment, arts and crafts, variety of vendors, food, Farmers' Market, fun, Star Trek, as well as kids activities. Admission to the event is free and open to the public. Nominal fees may apply for some activities.
"StreetFest was designed as an annual event to attract people to Ticonderoga's historic Montcalm Street district. Montcalm Street (from Sunshine Laundry to Glens Falls National Bank) will be converted into a pedestrian mall open to the public. StreetFest is a "must do" event for area residents and visitors alike.  StreetFest continues to grow every year and will be even bigger and better this year. You will not want to miss this event featuring live music all day, wonderful kids activities, sales, and much more. The Ticonderoga Area Farmers' Market will join StreetFest on July 30th as well and will offer local produce, products, and more throughout the day," Bob Dedrick – StreetFest Committee Chairperson.
Music and entertainment for StreetFest will begin at 10:00 AM and will continue non-stop throughout the day until the end of the event at 3:00 PM.
Featured live entertainment for Ticonderoga StreetFest 2016:
Fort Ticonderoga Fife & Drum Corps, led by Mike Edson from 10:00 – 10:30 AM. The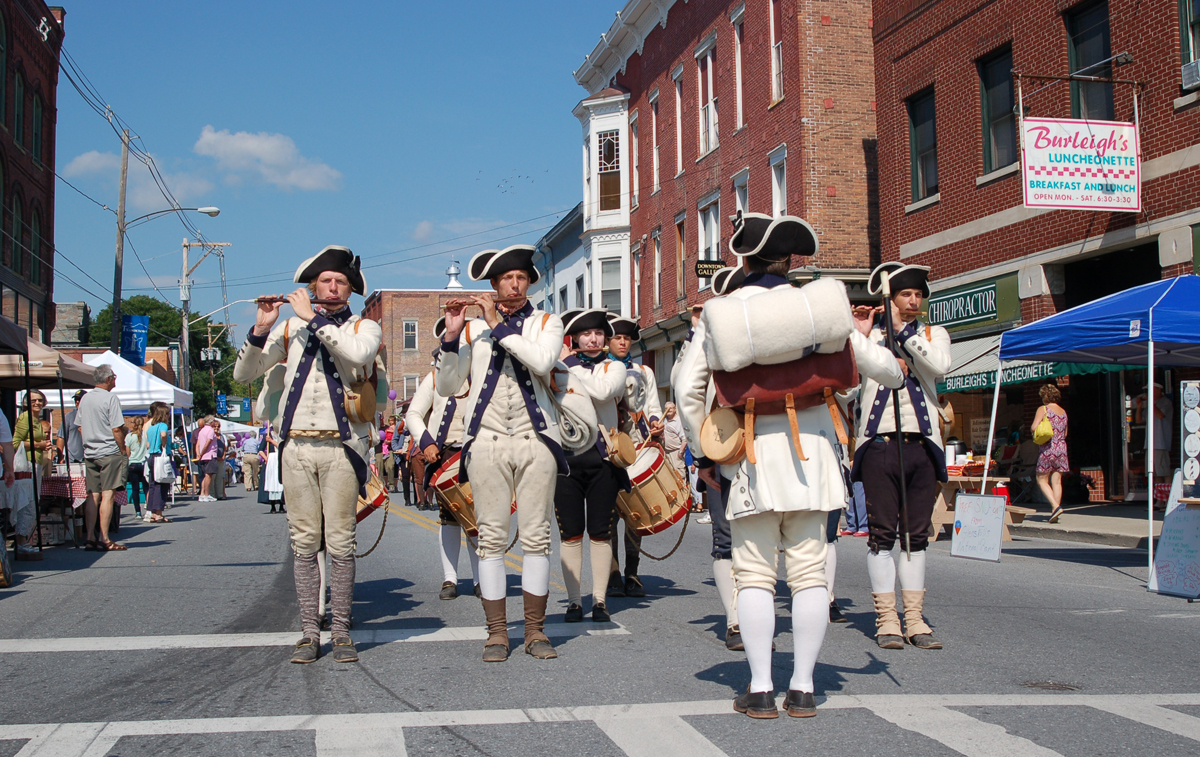 Fort Fife & drum Corp will be joined by visiting corps who are participating in Fort Ticonderoga's annual muster. All corps will march down Montcalm Street performing individually then as a collective unit in front of Glens Falls National Bank.
Performing On The Porch of Libby's Bakery Café:
Lance Clark & Mike Donahue (Blues, Country, & Popular Music): 10:30 – 12:00 PM
MaryJo Vontury & Dwynal Smith (Country & Folk Music): 12:00 – 1:30 PM
Ken McAlpine, Jim Gabler, & Chris LaPointe (Rock & Popular Music): 1:30 – 3:00 PM
Performing Near Pride of Ticonderoga/Ti Natural Foods Co-Op:
The Gregson Brothers (60's & 70's Music): 10:30 – 12:00 PM
Dan Kershner (Country & Western Music): 12:00 – 1:30 PM
Brad Peria & Terinna Cook (Blues Music): 1:30 – 3:00 PM
Kids activities for StreetFest will include:
Professional full face art
Face painting, balloons, & balloon animals by Penelope The Clown (sponsored by the Ticonderoga Federal Credit Union),
Caricatures
Sherwood Forest/Robin Hood themed game station (sponsored by Lakeside Regional Church)
Horse drawn wagon rides behind the downtown business district (sponsored by Gin's Redemption Center)
Bike Rodeo starting at 10:30 AM (sponsored by the Ticonderoga Police Department), free bike helmets (first come first serve)
…and more!
"We invite the community, area visitors, businesses and vendors to join us for the 8th Annual StreetFest. A great lineup of live music and entertainment is planned for the 2016 StreetFest. We greatly appreciate Ti' Coustics support. We encourage area residents and visitors to come and spend the day with us. Not only will there be amazing live music throughout the day, but there will be a variety of food, merchant sidewalk sales, vendors, and activities. You do not want to miss this event in Downtown Ticonderoga. We encourage you to support local merchants during StreetFest and throughout the year. Take this opportunity to see all they have to offer," Matthew Courtright – TMSP Coordinator.
Merchants and Vendors still have time to sign up for StreetFest. Registration forms are available at the Ticonderoga Area Chamber of Commerce office located at 94 Montcalm Street, Suite 1 in Downtown Ticonderoga. The deadline to register is Wednesday, July 20th at 4:00 PM.  Forms can also be found at www.timainstreet.org.
For vendors arriving, Montcalm Street from Glens Falls National Bank to Sunshine Laundry will be one way traffic (entering near Glens Falls National Bank) as vendors and merchants set up for the event. Vendors cannot arrive until 8:00 AM. Maps labeling locations of merchants, vendors, food, music, fresh produce, activities, and more will be available as guests enter Downtown Ticonderoga and are welcomed to StreetFest as well as the Ticonderoga Area Chamber of Commerce. In addition the program will include the schedule of music and entertainment. StreetFest Ambassadors who will be happy to assist you during the event will be wearing yellow StreetFest t-shirts. Montcalm Street will close to traffic between Lake George and Champlain Avenue from 6:30 AM to 4:00 PM. All parked cars should be removed by 6:00 AM, prior to the street closure.
For more information on StreetFest contact the Ticonderoga Montcalm Street Partnership (TACC – TMSP Coordinator) at 518-585-6619.