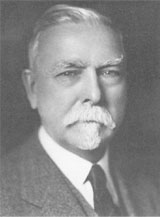 Some of Ticonderoga's Who's Who featured characters are historic. If you know Ticonderoga, you may remember the original Moses Ludington Hospital, an imposing building overlooking the monument at Moses Circle. Ticonderoga resident Horace A. Moses was a successful industrialist, generous benefactor and philanthropist, and continued to support his hometown throughout his life.
Born in Ticonderoga on September 21, 1863, Moses was anxious to leave the farm life his family lived on the Hague Road in South Ti.  After working for his uncle at the Agawam Paper Co. in Springfield, he was Superintendent in 7 years, and two years later he started the Mittineague Paper which eventually merged with Strathmore Paper.
Horace Moses was a highly successful and wealthy industrialist, but he had a strong penchant for philanthropy. In addition to supporting Junior Achievement, Boy Scouts of America and 4-H, to name a few organizations,  he continued to contribute to his home town of Ticonderoga. He donated heavily to a number of projects that are today points of interest:

Valley View Cemetery Chapel
Liberty Monument (at Moses Circle)
Moses-Ludington Hospital
Ticonderoga Community Building (known as the "Headquarters Building")
Hancock House (currently the Ticonderoga Historical Society)
Moses was honorary President of the New York State Historical Society and belonged to many other organizations and institutions. Horace Moses died on April 22, 1947.
Related Posts: