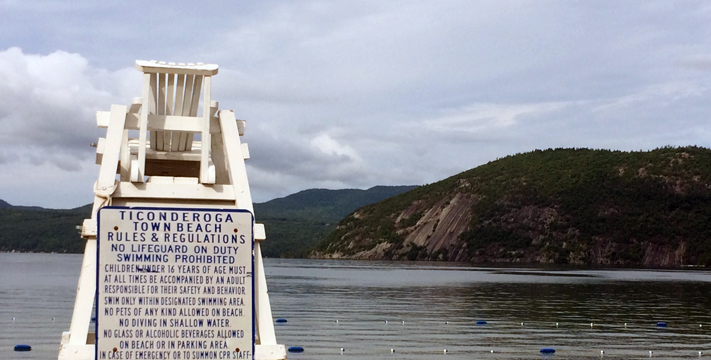 Beaches In The Ticonderoga Area
Whether you're a resident or visitor to Ticonderoga NY, you know there's nothing quite as fresh and enjoyable as taking a dip into the cool, clean waters of Adirondack lakes. Nearly every small town in the Lake Champlain and Lake George Regions have a public beach where you can take the kiddies to cool off, enjoy a nice family picnic, or just chill out!
Read through our list of Lake Champlain and Lake George Beaches near Ticonderoga NY and then drive on out to one of them for some summer fun – sandcastles, Marco Polo, playgrounds, lunch, or even a lazy nap on the shore.
Ticonderoga: Black Point Public Beach
11 Tiroga Beach Lane, Ticonderoga, NY (518) 585-7139
Located at the northern end of Lake George, this beach is known for its "million dollar view"…one visit and you'll know why. This beautiful beach has a naturally sandy bottom, volleyball nets, picnic areas, and a playground. An outdoor shower, clean restrooms, and a demonstration rain garden are some of the other amenities that make this beach so pleasant. Free parking and admission.
Bolton Landing: Veteran's Park Beach
Route 9N (Main Street/Lakeshore Drive), Bolton Landing, NY, (518) 644-3831
This small and quiet picturesque beach on Lake George is open from 7:00am – 10:00pm every day during the summer and lifeguards are on duty from 9:00am – 5:00pm. Amenities include a basketball court, docks, picnic tables, grills, a playground and pavilion. This family-friendly beach is shallow, getting deeper very slowly with five feet being the deepest point. You can expect breathtaking mountain views and a short walk to the village of Bolton Landing from this quaint beach. There is a $5 parking fee.
Bolton Landing: Rogers Memorial Park Beach
Route 9N (Main Street / Lakeshore Drive), Bolton Landing, NY, (518) 644-3831
Just a half of a mile south of Veteran's Park Beach and ten miles north of Lake George Village in Bolton Landing, you will find this great beach which offers public docks, basketball and tennis courts, picnic areas, grills, and a pavilion. Open from 7:00am – 10:00pm every day during the summer, there are lifeguards on duty from 9:00am – 5:00pm on weekdays. A shallow section is closed off for small children and clean bathrooms are available. There is a $5 parking fee.
Hague: Hague Town Beach
Lake Shore Drive, Hague, NY, (518) 543-6161
This nice and sandy public beach in the scenic little town of Hague NY is attached to a public park with a playground for young children and one for older kids. A roped off area of the beach is provided for your tiny tikes with plenty of deeper water for older swimmers. There is no charge to visit this beach and public restrooms are available. Hague Town Beach is open 10:00am – 6:00pm, June 23 thru Labor Day.
Schroon Lake: Schroon Lake Town Beach
Schroon Lake, NY, (518) 532-7675
Schroon Lake offers one of the most happening public beaches in the Adirondacks. Not only is there a nice sandy bottom, but there is plenty of plush green grass for when you're tired of the sand or want to engage in some other activities such as throwing a ball or picnicking. Enjoy phenomenal views of Schroon Lake while you are playing tennis, basketball, or jumping from the float in the deep area! There are always plenty of things to do right around Schroon Lake Beach and plenty of things going on from concerts and festivals to plays and auctions. Walk up the hill and you are right in downtown Schroon Lake with shopping and dining options if you want to take a break from the beach.
Port Henry: Bulwagga Bay Campsite Park
Bulwagga Bay Drive, Port Henry, NY, (518) 523-2445 ext. 171
The owners of this campground in Port Henry NY are happy to let the public use their beach at no charge as long as visitors keep the beach clean and act with good conduct. At this beach there are two lifeguards on duty, and you can rent canoes, kayaks and paddleboats. Clean bathrooms, a gorgeous Lake Champlain view and several picnic locations are available for use.
Ticonderoga: Putnam Pond State Campground
763 Putts Pond Rd, Ticonderoga, NY, (518) 585-7280
This rustic campground just outside the Village of Ticonderoga NY has one of the areas prettiest ponds! The clean, pristine beach is available for day-use for a small fee and rowboats and canoes are available for rental. If you get tired of the sand, there are plenty of hiking trails around the pond. There are plenty of picnic tables for a quiet lunch or bring your poles to fish in between dips.
Port Henry: Village of Port Henry's Champ Beach Park
Beach Road, Port Henry, NY, (518) 546-7123
This tidy little beach in Port Henry offers plenty of amenities to keep the family content on hot summer days. There is a playground for the little ones and a basketball court for some friendly competition. Lifeguards are on duty during weekdays and picnic tables are available.
Westport: Westport Municipal Beach
Washington Street, Westport, NY, (518) 962-8383
Ballard Park's public beach in Westport NY is known as "the Park that brings people together." There are always activities or concert going on in the park and the beach is equipped with a lifeguard, picnic tables, and amazing views of Lake Champlain.
Be sure to check out  Ticonderoga NY Beaches and some other ideas for summer family fun in Ticonderoga!