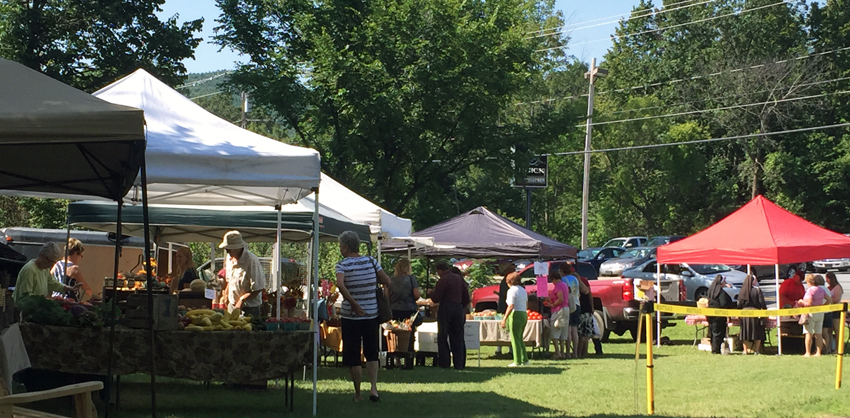 We are happy to sharing the latest news about the Ticonderoga Farmers Market provided by the Ticonderoga Area Chamber of Commerce:
The Ticonderoga Area Farmers' Market represents growers from all over who gather in open spaces to sell their products directly to the public.  These markets belong to the communities they serve. The more shoppers that support the market and spend money, the stronger and more diverse the market becomes.
The Farmers Market is located at 1114 Wicker Street (Wicker Wood) near the Walmart entrance across from Christopher Chevrolet Buick and takes place Saturdays from 10AM to 1PM.
The Market offers seasonal, locally produced, freshly harvested fruits and vegetables, meats, eggs, maple syrup, breads, baked goods, honey and a wide variety of unique, hand crafted vendor products.  Plenty of parking is available for the market, located in the back of the property after proceeding past the farmers and vendors
"In Ticonderoga our Market has grown immeasurably", offered June Curtis, Market Advisor. "When patrons visit the Market, engage the farmer and participate in the local fresh food movement, they are likely to come back again. This visit may be a social outing or a grocery run, but always a unique experience. The personal connections between the producer and consumer create mutual benefits for local farmers, shoppers and communities. More and more shoppers are making the Farmers' Market a regular part of their weekend activities, much to our delight."
The Fall season brings a bounty of new offerings such as winter squash and pumpkins which will be available from several of the farmers.  It is expected that the local apple growers will visit with a large variety of handpicked apples, cider and other apple products. To keep toasty warm in the cooler weather, nice hand spun Alpaca fleece hats and gloves will be offered.  Along with fresh vegetables and local, pasture raised eggs and meats, a shopper can often find fresh bread, hand crafted Adirondack baskets, honey, maple syrup and balsam products.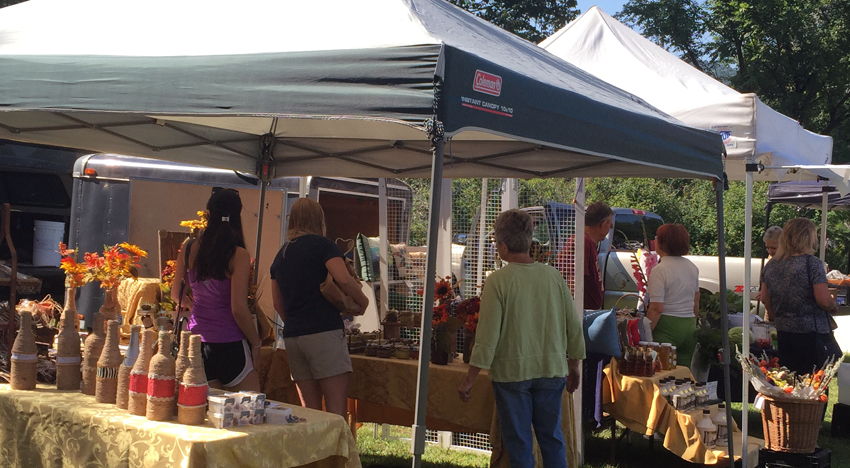 "Painting the Adirondack pallet was such fun, I'm planning a couple more projects", stated Carol Wood Ramundo, Market Manager.   "With Halloween sneaking up, let's have a No-carve Pumpkin Decorating Party!  The possibilities are endless when you decorate pumpkins with embellishments from paint to leaves or from paper to sparkles.  Please stop by and decorate a pumpkin.  I'll work with you to make your pumpkin spooky, scary, creepy or cute. As our ongoing Planting a Pizza Garden project continues, the peppers and tomatoes have reached a height of two feet. I expect we will be ready to have our Pizza Party in another week or so", offered Carol.  "When you visit, let's look at the garden, do a little weeding, maybe some harvesting if it's time and make a plan for this Pizza Party."
Chamber Executive Director Matt Courtright is pleased with the Farmers' Market's notable growth and popularity. "Across our nation farmers markets are becoming centerpieces of economic and community activities", stated Matt.  "Our market here in Ticonderoga mirrors that paradigm, connecting farmer to consumer, advocating for healthy living, and becoming a vibrant community space.  When food is produced and sold regionally, money spent stays in the local economy, leading to economic development. The benefits of having a farmers' market are felt throughout the community."
The Ticonderoga Area Chamber of Commerce is the coordinator of the market which is Co-Sponsored by the Town of Ticonderoga.  Additional funding is also provided to the market via grants. All sponsors will be recognized in an upcoming press release.
For more information visit the Ticonderoga Area Farmers Market Facebook page or www.ticonderogany.com . You can also call the TACC at (518) 585-6619.
The Ticonderoga Area Chamber of Commerce
The Ticonderoga Area Chamber of Commerce (TACC) is a non-profit organization that serves, markets, and promotes the Ticonderoga area including, Ticonderoga, Crown Point, Hague, Moriah, and Putnam, NY. TACC's vision is to be the leading advocate for business, serving as a driving force in the economic vitality of the greater Ticonderoga Area, uniting communities and maximizing resources. The mission of the TACC is to initiate and provide programs, services, and leadership to enhance a cooperative business community and create a vibrant economy, making the Ticonderoga Area an exceptional place to live, work, and visit. The Ticonderoga Area in New York is located in the Adirondacks along Lake Champlain and Lake George. For more information on the Ticonderoga Area Chamber of Commerce or the Ticonderoga Area please visit www.ticonderogany.com, "like" the Chamber on our Facebook page,  or "follow" TiconderogaADK on Twitter.
Save
Save
Save
Save