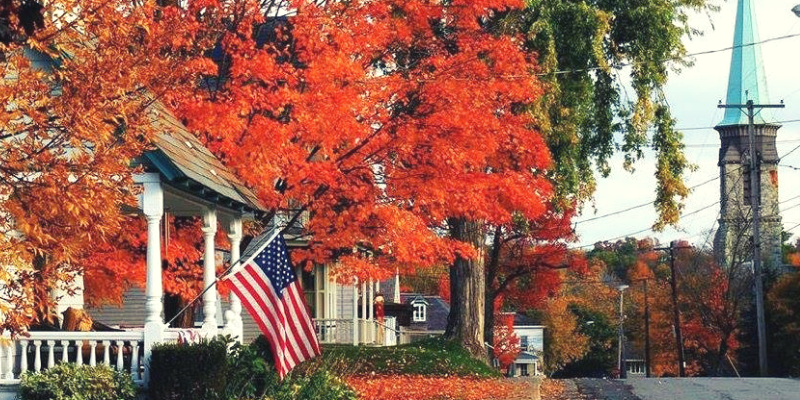 Imagine a breathtaking canvas of red, orange, and yellow beneath a brilliant blue sky as you drive round the bend on a country road.  A place where a short hike inspires with a mountaintop view of the shimmering, crystal-clear, 32-mile lake below you.  A place where small business owners greet you with a cup of hot cider, a slice of fresh apple pie, and insider tips for exploring the area.  For day-trippers and weekend-travelers alike, the best in hiking, biking, and scenic drives can be found here in the Ticonderoga area of upstate New York.
Ticonderoga Area Autumn Drives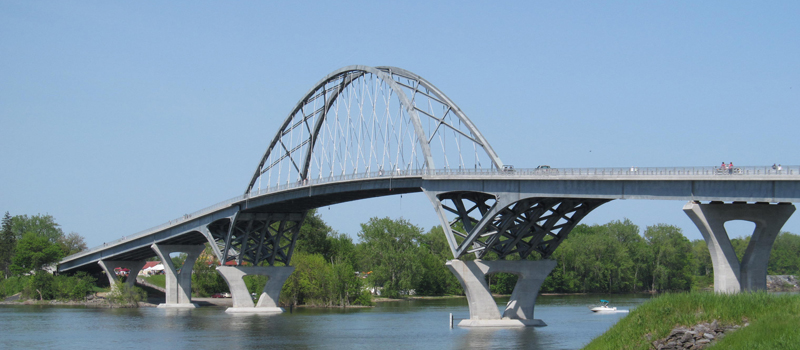 Ticonderoga to the Champlain Bridge
Following route 9N/22 from Ticonderoga north to the Champlain Bridge, travelers encounter rolling farmland, quaint towns, and scenic rural views.  One highlight along this drive is Gunnison Lakeshore Orchard.  Visitors and locals alike claim that Gunnison's bakery makes the best apple cider donuts around!  Take a stroll through the orchards to pick farm-fresh apples or continue on to the Champlain Bridge.  About five miles past Gunnison's, drivers will take a right onto route 185 east toward the bridge. The road passes through marshland and fields; the impressive Champlain Bridge appears in the distance. Autumn-lovers will be impressed with expansive views of Lake Champlain and the Crown Point Historic Site. Pedestrians can walk across the bridge. If you're lucky, a bald eagle or an osprey will soar by.
Silver Bay to Mt. Defiance

Along route 9N, a two-lane road that parallels the western edge of Lake George, travelers are enchanted with stunning views of the lake and surrounding mountains.  Foliage around the lake peaks later than in higher Adirondack elevations, so plan your trip for the second or third week in October.  One highlight along 9N is the Silver Bay YMCA campus.  A YMCA retreat for over 100 years, Silver Bay's expansive campus delights visitors with lake views, an impressive Victorian-era inn, and a stone chapel.  Follow signs for the Silver Bay entrance nine miles north of Tongue Mountain. Drive slowly through campus and be sure to stop for photos.
Leaving Silver Bay, exit via the northern route and continue on 9N to Hague. In Hague, a public beach offers excellent lake-foliage viewing.  There are picnic tables, a playground, and a giant, grassy lawn.  Back on the road heading north to Ticonderoga, route 9N curves sharply when hugging the lakeshore and opens up once inland. North of Roger's Rock State Park, travelers will love the iconic Adirondack views of the Pharaoh Lake wilderness to the east as they pass the Ticonderoga Country Club. Once in Ticonderoga, visitors can drive up Mt. Defiance for a great view of Lake Champlain and Fort Ticonderoga.
Bike Rides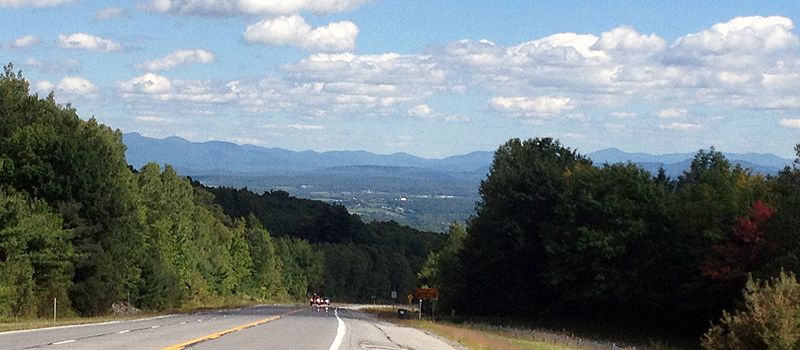 Route 74E, Ticonderoga to the top of Chilson Hill
Once in Ticonderoga, bikers can return to Hague on route 9N or head west toward Chilson.  Riding up Chilson Hill — a six mile, 1200 foot elevation gain — is challenging to say the least. But cyclists are rewarded with a commanding view of Ticonderoga and the Champlain Valley at the summit.  Feel the exhilaration of racing back to town and revel your exhilarating workout!
Route 9N, Hague to Ticonderoga
Every year in June, competitors in the Hague Triathlon race their bikes along a portion of route 9N. Challenge yourself to ride part of the course by cycling from Hague to Ticonderoga and back.  On this ride, bikers will enjoy approximately 20 miles (one-way) of gentle elevation gains, varying habitats, and rural scenery.
Baldwin Road, Ticonderoga to the end of Baldwin Road
For a mellow experience, cyclists can ride Baldwin Road along the northwestern shore of Lake George.  Starting at the intersection of Alexandria Avenue and Lord Howe St. in Ticonderoga, head south on Baldwin.  The route passes rustic lake homes, farmland, and pretty water views.  Riders will pass the Cook Mountain Preserve, a great place for hiking.  At the end, riders will turn back and enjoy the view heading north.
Hikes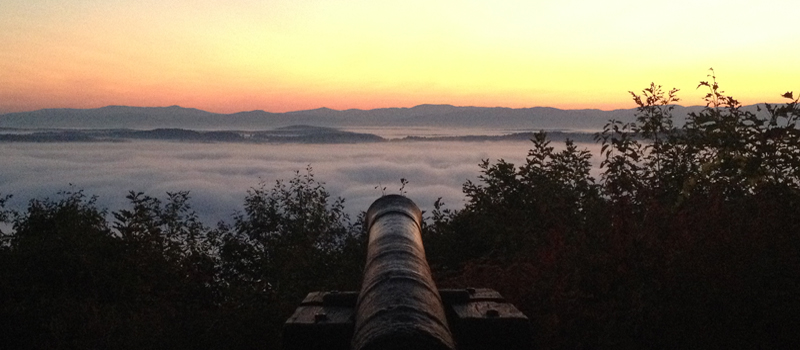 Anyone who wants to hear the crackling of leaves underfoot and breathe in crisp autumn air can find a hike that suits their ability and experience-level.  Our area has hikes both easy and difficult and offer unique experiences, many described in detail on the Lake George Land Conservancy's website.  Below are a few highlights:
Ticonderoga
In "Ti-town" (as some locals refer to it) hiking is pastime of many residents.  Enjoy a stroll through the King's Garden at Fort Ticonderoga as you take in expansive history lessons. Paths lead in and around the remains of the fort and visitors will delight in experiencing part of our revolutionary history.
The hike up Mt. Defiance is also worth it in Ticonderoga.  If you choose to drive it, look out for cars while you're huffing and puffing your way up the hill.
Last but not least, the Cook Mountain Preserve located on Baldwin Road, offers remarkable vistas and bog areas to explore and reconnect with nature.
Hague
Peggy's Point in Hague is a small lakeside retreat where visitors can walk a short way to water's edge.  Children will love running across a big, open, grassy lawn and adults will enjoy viewing the perennial gardens.  At water's edge, an expansive view of the lake impresses, and little ones can delight in throwing rocks into the water.
For a longer walk, hikers can try the one-mile trail partially through a hemlock forest that culminates on the northern edge of Jabe Pond.  Hikers will love the quintessential Adirondack wetland views at the end of this short but rewarding hike.
Roger's Rock State Park
A few miles north of Hague on route 9N, hikers can enjoy an abundance of trails at Roger's Rock State Park.  One of the most popular hikes in the park, climbing the back side of Roger's Slide, is an excellent way to quickly gain elevation and take in panoramic views of northern Lake George.  The trail is very steep in some sections.  Take care while enjoying the vista, and be sure to monitor children and pets.
Whether you're looking for an afternoon on a mountaintop or a morning's drive through mist-laden valleys, the Ticonderoga area welcomes you to explore autumn in upstate New York.