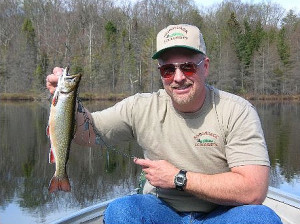 Meet Steve LaMere, Director of the Essex County Fish Hatchery in Crown Point, NY!  Steve manages the day-to-day operations at the hatchery, a program that has a significant impact on the region's recreational and economic health. The Essex County Fish Hatchery is a great place to bring the kids when you are visiting the Ticonderoga region. We recently touched base with Steve to learn more about his job as fish hatchery director extraordinaire…
Q:  What is the mission of the Crown Point Fish Hatchery?
A:  The mission of the Essex County Fish Hatchery in Crown Point, NY, is to raise and stock brook, brown, and rainbow trout, into the waters of Essex County to help create or improve recreational fishing opportunities for local and visiting anglers. It is hoped that these opportunities will increase fishing-related tourism and thus have an important positive impact on the local economy.
Q:  Where is the Fish Hatchery located? 
A:  The county hatchery is located on Fish Hatchery Road, just off of County Route 2.
Q:  What times of the year is it open?
A:  We are open year-round, 7 days a week, from 8:00 AM to 4:00 PM.
Q:  How did you get to be manager of the Hatchery and how long have you been here?
A:  I heard about the job when I was working for the state. I applied, attended an interview and was offered the job the same day. I've managed the hatchery since 1990.
Q:  How many people work at the Crown Point Fish Hatchery?
A:  There are three people that work at the hatchery. The other two employees are technicians that work directly with the fish, feeding them and cleaning raceways and ponds. They also perform routine building and property maintenance at the hatchery.
Q:  Why do we need to stock the fish in New York State?
A:  Overfishing and habitat loss over time depleted native fish populations in many waters. Our role is to help replenish some of those populations.
Q:  How do you decide how many fish to stock?
A:  We coordinate our stockings with the NYS Department of Environmental Conservation to help meet the management objectives of each particular body of water. We currently stock about 62 bodies of water in Essex County.
Q:  Where do the stock fish come from?
A:  We receive our fertilized trout eggs primarily from the U.S. Fish and Wildlife Service.
Q:  What do you like most about your job?
A:  Working outdoors.
Q:  What do you most want people to know about the hatchery?
A:  How difficult it is and how much dedication and effort it takes to be a fish farmer. We historically have not had a lot of funding for our operation and we are very proud that we have been able to operate such a quality program despite the challenges of contending with the rigors of nature and weather.