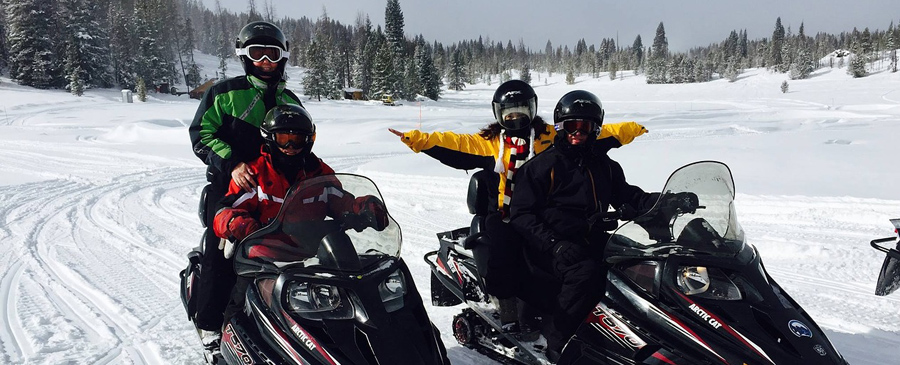 Snowmobiling in the Ticonderoga and Southern Champlain Valley region  is a favorite winter pastime of residents and visitors alike. It's no secret that some of the best snowmobiling in the country is found in and around the Adirondacks of upstate NY.
Come and ride the pristine powders through the quaint and historic towns in and around Ticonderoga. Experience the thrills of riding hundreds of miles of groomed and backcountry trails through the public and private lands of the Adirondack Trail System. This system runs through Port Henry, Minerva, Schroon Lake, and Saranac Lake NY. Put your sled on ice! Once they've frozen over, there is nothing quite like the thrill of flying wide open on the frozen waters of Lake Champlain and Lake George.
Snowmobile Education and Safety
Before you begin, make sure to learn more about rider training, and snowmobile safety courses available here in Upstate NY.  The NYS Snowmobile Association offers a ton of information on snowmobiling in New York State – check out their website and find information on everything from snowmobiling laws, to education, clubs, and trail apps.

Regional Snowmobile Trails
Looking for places to ride in the Ticonderoga Region?
Cheney Pond Trail, Cheney Pond Rd.,

Minerva, NY 12851

Fourteenth Road Trail, Fourteenth Rd. and Route 28N,

Minerva, NY 12851

Stony Pond Trail,

Olmstedville-Minerva Rd.,

Minerva, NY 12851

Newcomb House to Indian Lake, 5699 New York 28N, N

ewcomb, NY 12852

Newcomb House to Long Lake,

5699 New York 28N,

Newcomb, NY 12852

Schroon Lake Trail 1,

36 Club House Dr.,

Schroon Lake, NY 12870

Schroon Lake Trail 2,

Charley Hill Rd.,

Schroon Lake, NY 12870

Schroon Lake Trail 3,

Trout Brook Rd.,

Schroon Lake, NY 12870

Schroon Lake Trail 4,

Drake's Pond,

Schroon Lake, NY 12870

Schroon Lake Trail 5,

36 Club House Dr.,

Schroon Lake, NY 12870

Schroon Lake Trail 6,

134 Route 74,

Schroon Lake, NY 12870
The North Country doesn't slow down in the winter! Bring your snowmobile, rent, or find a tour and discover the beauty of winter in upstate NY. After a long day on the trails, enjoy a hot meal at one of the many restaurants and bars in Ticonderoga that cater to snowmobilers.
Looking for lodging in Ticonderoga NY? Hotels and motels and several inns in the area cater consistently to snowmobilers in the winter, and you can make a reservation right on our website!
Interested in joining an Adirondack snowmobile club? Snowmobile clubs in Ticonderoga and surrounding counties afford excellent opportunities to make friends, learn the trails, and take advantage of discounts offered only to club members. The members of the Adirondack Trail Riders Snowmobile Club in Ticonderoga are dedicated to maintaining Essex County trails and providing information to ensure riders know where to go, follow safety regulations, and respect private property and the environment.
There are tons of opportunities for winter fun in Ticonderoga including ice fishing on one of the several surrounding Adirondack lakes, skiing, and snowshoeing. Check out events in Ticonderoga NY and the Lake Champlain area.
More Winter Fun: