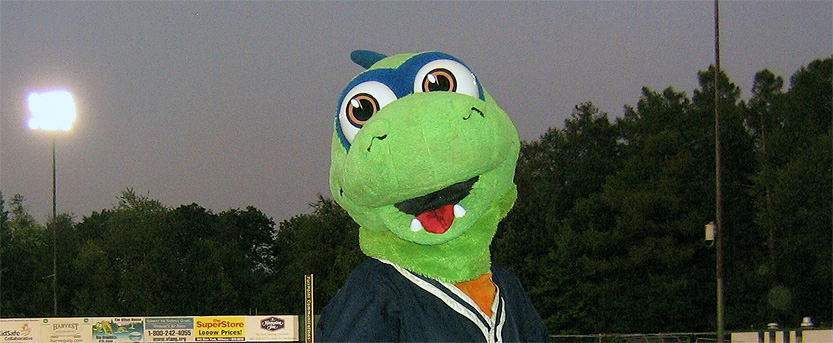 As warm weather blows into the Champlain Region, so too, will local and distant Port Henry Champ enthusiasts – those believers in the famed ancient cryptid whose potential existence in Lake Champlain predates the Loch Ness Monster, possibly by a couple of hundred years!
Whether you believe this indigenous legend is a figment of some gullible dreamer's imagination; a rock shaped like a serpent-horse, like some of the rock structures around Split Rock in Essex NY; a ginormous lake sturgeon; a log; an ancient Native American tale; or an amazing lie that has spanned centuries, locals are positive that Port Henry NY on Lake Champlain is home to "Champy". In fact, residents of Port Henry are so proud of their resident leviathan that they celebrate his (or her!) existence annually with their Annual Champ Day! It is believed that there have been sightings of Champ for as long as people have been in the Adirondacks, with several in Port Henry's Bulwagga Bay.
"Champy" Facts:
The Champ Sightings sign is located in Port Henry and features over 130 documented sightings.
The most famous picture of Champ was taken in 1977 by Sandra Mansi and depicts a sea monster that she claims had a neck that rose 6-feet above the water. The photo sparked modern analysis and renewed curiosity of the monster.
Although many believe it was a misquote, many still believe Samuel de Champlain saw Champ during his exploration of the area in 1609, having written that he saw "a 20-foot serpent thick as a barrel, and a head like a horse."
The first modern recorded sighting was in 1819, but local Native American tribes are said to have had their own legends about a water beast that inhabited Lake Champlain hundreds of years prior to this.
Champy was reportedly very active in 1873, when a railroad crew saw the head of an "enormous serpent," Clinton County's Sheriff Nathan Mooney reported a 25-35 foot "enormous snake or water serpent," and the steamship W.B. Eddy ran into the creature with tourists onboard, nearly overturning the vessel.
In 1873, P.T. Barnum offered a $50,000 reward for the capture of the monster for the World's Fair Show.
Double-digit sightings in the 21st century have received interest from the Today Show, NBC's Unsolved Mysteries, Fox Network's "Sightings," and Japanese Television.
Joseph Zarzynski's 1984 book, Champ–Beyond the Legend, is a must read for all Champ enthusiasts!
This year, Annual Champ Day is Sunday, July 17, 2016 and the celebration for the region's mysterious monster will be better than ever! The event will kick off with a "Champ Hunt" at 9:00 am, with "Champ Dollars" to local businesses redeemed for money at Sagan's on Main Street. Other events include: Moriahstock concert on the pier (1:00pm), children's games, 5K race, music, and cardboard boat races. Arts, crafts, and food vendors will open up at 10:00am in Powerhouse Park. Once again, the Annual Lake Champlain Antique and Classic Boat Club Rendezvous at Port Henry Marina will be held the same day as Champ Day, featuring some of the most stunning wooden boats in the Champlain Region.
You can discover more events in Moriah NY, Port Henry, Ticonderoga, Schroon Lake and the entire Champlain Region! Find fun things to do, Ticonderoga area attractions, and spring fun in Lake George and Lake Champlain right here on Ticonderoga360.com!
(adsbygoogle = window.adsbygoogle || []).push({});