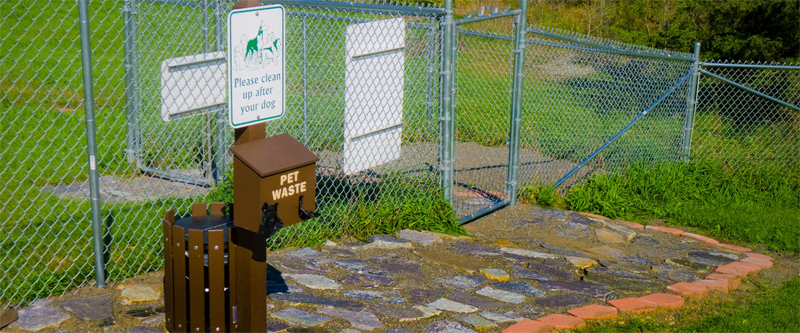 Did you know there is a dog park in Ticonderoga?
The Ticonderoga Dog Park is 2 acres of green, sniff-friendly outdoor fun for your dog!  Located off of Lord HowStreet between Pearl St. and Alexandria Avenue, the dog park provides a safe and fun setting where your dog can enjoy some glorious time off leash and get some valuable socialization time with other pets. Recently we talked to Ticonderoga resident, dog lover and volunteer Lynda Mackey who spearheaded the dog park project for the local community. We asked Lynda to share with us what led her to believe that a dog park in Ticonderoga would be not only successful, but an asset to the community, and how she got started with this worthwhile project!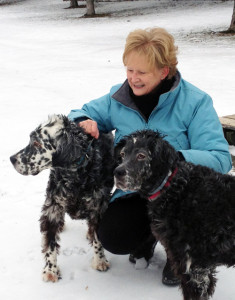 A few years ago Mackey moved into a new home with a fenced-in yard where her dog could run free.  Soon one of her neighbors began bringing her dog over to play, and before long another neighbor was bringing his dog as well. The doggie playdates went so well, and the dogs loved it so much, that the idea for a local dog park was born.  The first step was to obtain Town approval, and they were told that if they raised the money for the facility that they could undertake the project.
As  word of the project spread, resources began to appear. Beginning with the gift of a $5,000 private donation, Mackey wrote letters to local businesses and received $1,200 worth of fence supplies from Lowe's, $2,000 worth of fence upgrades from Halco Fence, donation of cement for the fence project from Quikrete and a number of smaller cash donations.  Several Lowe's employees donated their time and expertise to prepare and install the fencing and lay all the groundwork for an attractive, functional location that is one of the few dog parks in the Adirondacks.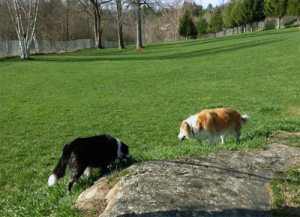 Dogs love to play and frolic beginning at an early age, and the Ticonderoga Dog Park offers a great way to socialize your pet! An "off leash" park provides a setting where dogs can explore without feeling threatened, sniff everything, get lots of exercise and learn how to behave and gain confidence around other canines.
The dog park is a non-profit which relies on the help and assistance of patrons to keep it clean and functional.  (See Ticonderoga Dog Park Rules here...)  If you want to help maintain and support the park, it's easy to donate:
Checks can be made out to "Ticonderoga Dog Park" and mailed to Ticonderoga Dog Park, 23 Wayne Ave, Ticonderoga NY 12883.
Bring your cans and bottles to Gin's Recycling Center at 914 Route 9N (Hague Road).  Tell 'em the Dog Park sent you!
Don't for get to visit their Facebook page!
Save