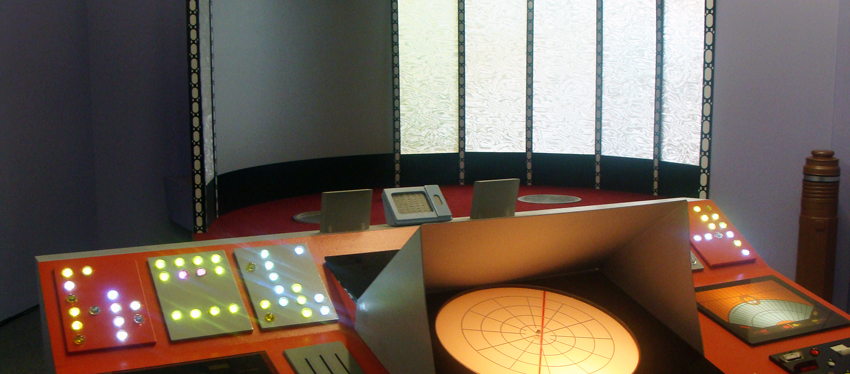 Located in downtown Ticonderoga NY, the modest exterior of a former grocery store is home to a dream.
Ticonderoga is now fortunate to be the home of Trekonderoga, a sci-fi/pop culture event taking place on August 12-14, 2016 sponsored by James Cawley and the Ticonderoga Revitalization Alliance as a town economic development project. This event is destined to draw a wide range of attendees, celebrity participants and visitors to the region to experience this phenom. Commitment to excellence has earned Trekonderoga the licensing of "Star Trek – The Original Series Set Tour" at this location.  Ticonderoga is the only location in the country with this CBS Star Trek license.  
James Cawley: Creator of Trekonderoga
Recently we had an opportunity to speak with James Cawley in person. We had not yet toured the museum, and had no idea what to expect. We found his story is as unique and remarkable as you might imagine.
As a child, Star Trek was always Cawley's hobby, which he continued with right into adulthood.  He enjoyed an incredibly successful career as an Elvis impersonator, and along the way, struck up a friendship with the costume designer from Star Trek: Next Generation.  After touring nationally and internationally as Elvis, Cawley came off the road and began to pursue his passion in earnest, taking on the task of preserving and immersing himself in the cultural phenomenon that is Star Trek.
What Cawley has created at Trekonderoga is spectacularly unique. Trekonderoga isn't an amusement-park attraction.  When you take a tour, you are experiencing a complete rebuild of the actual stage set on which they filmed the original TV show. Not just a copy, but a  meticulously crafted and detailed reproduction . When you enter this set, you're there. For real.
Trekonderoga 2016
So, 'ya gotta go. Whether you are a Trekkie or not, this is a not-to-be-missed experience for the whole family! Trekonderoga attendees will have the opportunity to attend exciting events in  unique and intimate setting, including:
A special presentation on the iconic movie "2001: A Space Odyssey" with Gary Lockwood & Keir Dullea
A chance to mingle with our celebrities at a dinner with the stars
Take a walk down memory lane with our celebrity presentations and get an autograph & have your photo taken with your favorite celebrity
Rock out with our fantastic Elvis & Blues Brothers tribute concert
Entertain your taste buds at our ice cream social
Dress up as your favorite character & maybe even win a prize in our cosplay costume contest.
Entertain your intellectual side by attending a special effects, costuming or makeup workshop run by industry professionals, get insights at a special retrospective on Star Trek's 50th anniversary, and try to beat our trivia masters at our trivia contest.
There will also be iconic pop culture vehicles on display, including the 1966 Batmobile, the Doctor Who Tardis, the Zhang Heng shuttlecraft, the Blues Brothers car and a special edition James Bond tribute car.
Whether you are a Star Trek fan or not, if you love anything retro or just love to be entertained,  THIS is amazing. Visit the Trekonderoga website and check out their Facebook Page for updates and more information.

Save
Save
Save
Save
Save
Save
Save
Save
Save
Save