Located in downtown Ticonderoga overlooking the LaChute falls, the North Country Community College campus in Ticonderoga is just one of three located in the Adirondack Park Saranac, Malone and Ticonderoga. NCCC is a member institution of the State University of New York (SUNY), employs over 150 academic staff members and provides education to approximately 1500 students. We reached out to NCCC President Dr. Steve Tyrell to touch base about his position, challenges and rewards of leading this unique institution of higher learning in Upstate NY!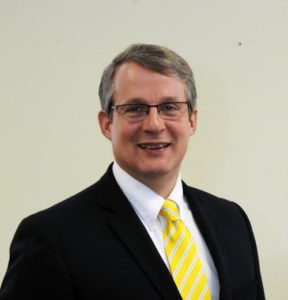 Q. What was your path to becoming President of NCCC?
A. Prior to arriving at NCCC in 2012, I served for 29 years as a student services professional at a few public and private colleges.
Q. What do you most love about your job?
A. Thinking about the future of higher education and how best can the College serve the needs of residents in the North Country region.
Q. What have you found most challenging?
A. How hard it is to get external entities to see the value of the community college experience in their backyard and to fund the good work we do every day to support residents of Essex and Franklin Counties.
Q. How do you engage with students to understand where they are in their path forward, and better understand their thinking?
A. I see students thru conversations with student leaders both in formal and informal settings. Their feedback is invaluable.
Q. What are some of the unique challenges presented to a college operating in the Adirondack region?
A. There are more opportunities than challenges operating in the Adirondack region. The greatest challenge however is the declining number of high school students as a result of job loss in the region.
Q. Are there any major improvements or projects planned for NCCC over the next few years?
A. We are pushing more on-line degrees to support our residents. We are looking at what curriculums do we need to offer to support the needs of our residents.
Q. Looking five years down the road, what do you see for the future of the college campus in Ticonderoga?

A. The Ticonderoga campus is a gem in eastern Essex county. We need to find ways to bring more members of the community to the campus for non-credit courses, new degree programs and more College sponsored events – lets put the "community" back in our community college!
Q. What are the top 3 benefits you present to prospective students or faculty considering entering NCCC?
A. 1. Close knit family of personable faculty, staff and students 2. Hand-on (applied learning) approach to learning and great preparation for a baccalaureate degree or for entering the workforce, 3. here is nothing better than having the beautiful Adirondacks as the backdrop to learning!
Q. What do you want parents of prospective students to know about education at NCCC?
A. They can be assured that our faculty work very closely with each student and both support and challenge them to excel here at NCCC and to achieve their career aspirations>
Q. What are some of your favorite things to do outside of NCCC?
A. Obstacle races, skiing, martial arts.
Want to learn more about North Country Community College? Call 888-TRY-NCCC, email [email protected], or visit their Facebook page!
Related Posts: