Experience the beauty of winter in Ticonderoga! Cross country skiing or snowshoeing trails and locations in the Ticonderoga region make it easy to enjoy the snow!!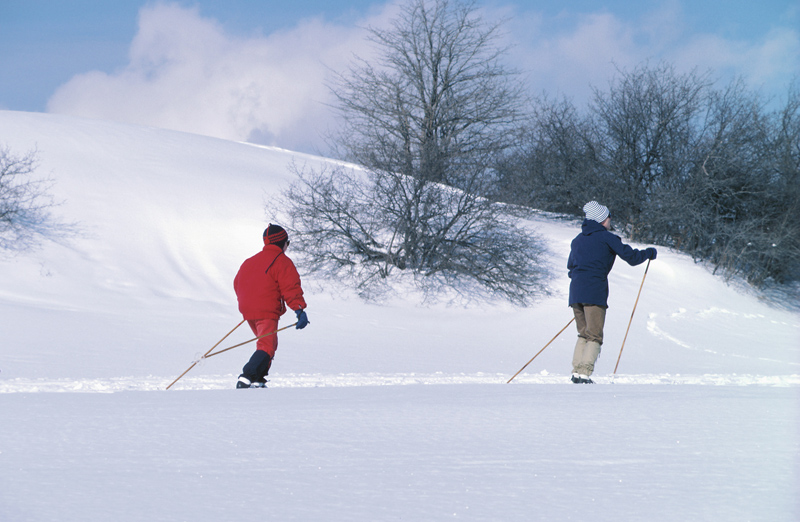 Ticonderoga NY is just miles from some of the best spots for cross country skiing and snowshoeing in the country. Experience breathtaking Adirondack wilderness scenery and get a workout at the same time! Whether you are looking for Adirondack ski resorts or places to go snowshoeing in Lake George or other Adirondack towns, we've gotcha' covered! Check out our list of popular snowshoeing and cross-country trails in the Southern Adirondacks.
Bicentennial Park in Ticonderoga:  Lighted trails make this an easily accessible and lovely cross-country experience.
Crane Pond: An old unused road leads through old growth forest to the pond…scenic views. Crane Pond via Blue Hill Trailhead: You can use the Putnam Pond campground at the end of a dead end road off of Rte 74 from Ticonderoga.
Crown Point Historic Site has marked cross-country ski trails and snowshoe trails.
Garnet Hill Lodge:  55 km of groomed trails for guests  (39 Garnet Hill Rd, North River, NY 12859)
Roger's Rock Campground:  10 km of cross-country skiing in Ticonderoga and Hague. Day or night, and free!  (9894 Lake Shore Dr, Hague, NY 12836).
Adirondack Interpretive Center:  3.6 miles on trails with beautiful lake views and an abundance of wildlife  (5922 State Route 28N, Newcomb, NY 12852).
Lapland Lake Nordic Vacation Center:  50 km of some of the most well-groomed trails in the country in a Nordic atmosphere. Cross Country Skier Magazine calls it "…one of the finest areas around,"  (139 Lapland Lake Rd, Northville, NY 12134).
Cunningham's Ski Barn:  Cross Country Ski Trails in North Creek NY offer private, groomed trails  (1 Main St., North Creek, NY 12853).
Crandall Park Ski Trails:  7 km of cross country ski trails in Glens Falls NY  (Glen St., Glens Falls, NY 12801).
Lake George Recreation Park:  7 km of groomed and marked cross-country ski trails in Lake George, NY  (Transfer Rd., Lake George, NY 12845).
Friends Lake Inn Snowshoe Center:  Beautifully groomed private trails with lessons, guided trips, and rentals available  (963 Friends Lake Rd., Chestertown, NY 12817).
Santanoni Historic Preserve:  This free, popular and public 9.8 mile trail is of moderate difficulty and is located in charming Newcomb, NY…a town that perfectly represents life in the Adirondacks  (58 Newcomb Lake Rd., Newcomb, NY 12852).
The Northville-Placid Trails:  This 132 mile trail begins in Northville, NY and crosses through Lake Durant, Long Lake, and Blue Mountain Lake. Any part of the trail is suitable for all skiers and snowshoeing.
Need a place to stay? Lodging accommodations in Ticonderoga NY and the surrounding towns include ski resorts, motels and hotels, and several cozy bed and breakfasts! Check out shopping in Ticonderoga and the Champlain Valley region for charming Adirondack trinkets or necessities!