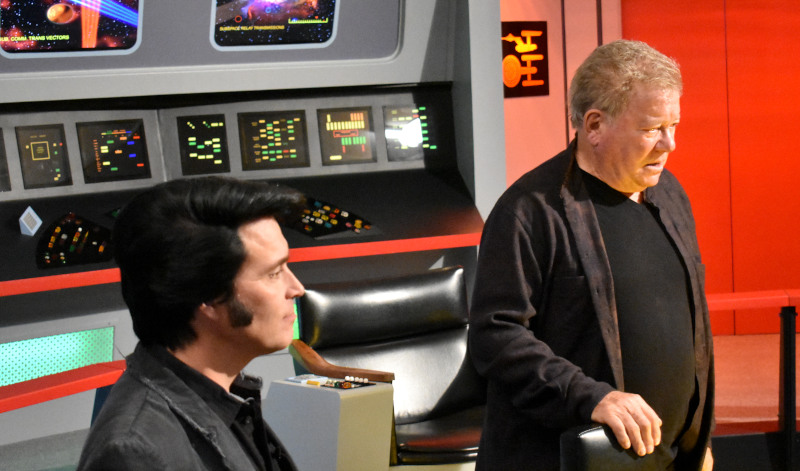 Ticonderoga Star Trek Series Tour Embraces Past, Present & Future
Ticonderoga has long been known for its past – a rich history and its significant role in the Revolutionary War. Now the Star Trek Original Series Tour is introducing a new element of history to Ticonderoga.  This weekend actor William Shatner – aka Captain Kirk of the Star Ship Enterprise – was in Ticonderoga to visit the Tour, greet fans and take photos. Joining him for Christmas With The Captains was the newest Captain Kirk, Anson Mount. There was a long line of fans to take the tour, see William Shatner, and meet and greet with Shatner and Mount at the Ticonderoga High School.
Shatner's first visit to Ticonderoga was in May, when more than 1,400 fans were on hand to meet him, get a photo, and explore the Star Trek Original Series Tour setting.

Although the original Star Trek series was only produced from 1966 – 1969, its imprint on our culture has been a long term one! "Trekkies" are everywhere, a loyal and visible following.  Star Trek superfan and lifelong resident James Cawley has recreated the Star Trek movie set in painstaking detail. With the help of legions of selected fans like himself, Cawley has utilized the original blueprints and has amassed an impressive amount of original props and costumes from the original series, to the delight and amazement of fans.
Fans came from far and wide, making the trip to beautiful Ticonderoga for an opportunity to experience the Star Trek phenomenon for themselves.
The Star Trek Original Series Tour is located at 112 Montcalm Street in downtown Ticonderoga. Visit their website, or call  (518) 369-9967 for more information.