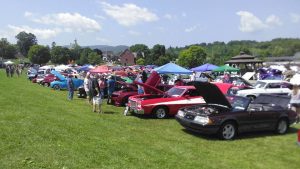 The 26th Annual Ticonderoga Area Car Show that was held on Sunday, August 5, 2018 in Ticonderoga's Bicentennial Park was a huge success! This is such a great event for our area…a family-style event and a unique experience, for sure. A big shout-out to the Adirondack Trail Riders and the Ticonderoga Aea Chamber of Commerce for doing such a great job coordinating and managing this show! We are pleased to share the show winner results here.
The show was a judged show and a "SuperWheels Showdown" Qualifier. Each year the Ticonderoga Area Car Show sends one, Best of Show winner to the "SuperWheels Showdown" in Boston, MA in October. These participants have a chance to place at this show, as well as move into an even larger and exclusive show at the Mohegan Sun.
2018 Car Show Winners:
SuperWheels Qualifier & Best of Show Car: Steve Ballard
Best of Show Truck: Ivan Robertson
Best of Show Motorcycle: Dale Rafferty
Best of Show Display: Norm Monette – The Flying Farmer
Best Work In Progress: Mike Weatherby
Favorite Antique: Val Soupios
Best Color Scheme: Bobby Archembault
Most Radical Engine: David Cavacas, Jr.
Trail Riders Choice: Chuck Moore
Fans Choice: Tim Vanderviele
Check out these great photos from the show:
Congratulations to 2018 Car Show Raffle Winners: $2,500 – Paul Tacy & $1,500 – Ken Costello
For more information on the Car Show contact the Adirondack Trail Riders at 518-585-6102, email [email protected], or visit the Adirondack Trail Riders Facebook page. You can also visit the Ticonderoga Area Chamber of Commerce website here.