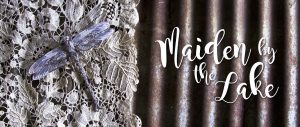 BUSINESS PROFILE:
Name: Pam Lemza Putnam
Title: Artist
Business: Maiden by the Lake
Years in Business: 2
Briefly Describe Your Business
I'm an artist that lives in the beautiful Adirondack Park along Lake Champlain. I love to re-purpose, re-imagine and re-love vintage and antique items by turning them into a one of a kind home décor items. I love giving junk one more chance to shine!
What is your product or service specialty?
I source locally for many components for my creations by going to Flea Markets, Thrift Stores and Yard Sales. I have a full repertoire that I create from seasonal décor to jewelry, memory boxes, hand stenciled signs, dolls and watercolor cards.
I love to share my passion for creating and teach craft classes at a few local business venues. I provide all the supplies and the instruction so that you learn new skills and create your own one of a kind piece of art for your home décor. You can find my classes at Tromblee's Greenhouse & Gift shop in Crown Point and at the Moriah Chamber of Commerce in Port Henry. I can also be contacted to teach a craft class right in your own home!
How did your business get started?
I've been an artist my whole life but once I quit my full time job, I've been able to focus on growing my business.
Why do you recommend people do business with you?
I am very passionate about my artwork and love to teach others. I am able to break down projects into manageable pieces and help instruct others to make an art project that they are proud to display. I like to teach new skills in each class so that the students learn new techniques.
What makes you the most proud of your business?
I am proud of my business because I love to see others successfully complete projects that they thought they could never do on their own. I love to hear about and see photos of them creating the project at home or using the skills and applying that to another home decor project. I'm also just thrilled to help out Friends Comforting Friends, our local organization, as I donate the cost of one seat in class to the group for each full session of 12 participants.
What do you most want people to know about you?
I just want people to know that I love to share my passion for art whether it's when I am creating an item to sell or teaching a group.
What is your key to success?
If you love what you are doing, you will be successful!
Complete the following sentence: A really great day for our company is when…
I load up my car full of repurposed junk to sell or full of supplies and heading out to a full class!