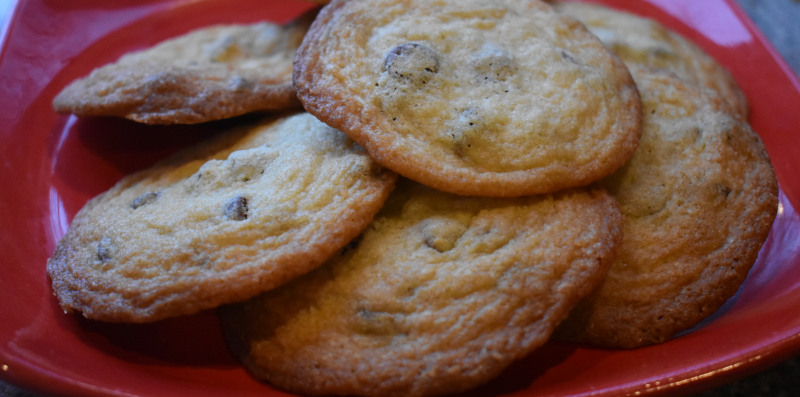 So…there's a huge snow event on the way, with possible accumulations of 20″ or more! Did you know that on March 26, 2001, Lake Placid received 28″ of snow? People in this neck of the woods know how to survive an Adirondack snow storm!
If you've grown up in the Essex County area, there's just something about a winter storm that brings out our primal need to be cozy and safe. In today's world, there aren't many snow events that can really upset our routines for long, but you wouldn't know it by the crowded grocery and hardware stores, where batteries, flashlights, snow melt and mittens can be hard to find!
If you're one of those people who love a snow storm, some warm cookies can go a long way toward making a cold, blustery, snowy day as serene and cozy as it can be! Headed out to go ice fishing? Snowmobiling? Maybe you're taking advantage of this weather event to try your hand at cross country skiing in the Ticonderoga region, or snowshoeing? Cookies and milk after a chilly outing can make your day.
This recipe is from Martha Stewart…these are delightfully thin, crisp chocolate chip cookies that are to die for! So put on the tea kettle, warm up the stove, and give 'em a go! (My notes about my experience baking these are in parenthesis.)
Martha Stewart's Thin & Crispy Chocolate Chip Cookies
1-1/4 cups (2 1/2 sticks) unsalted butter, room temperature
1-1/4 cups granulated sugar
3/4 cup packed light-brown sugar
1 teaspoon salt
2 teaspoons pure vanilla extract
2 large eggs
2 cups (about 12 ounces) semisweet and/or milk chocolate chips
Preheat oven to 350 degrees. In a small bowl, whisk together the flour and baking soda; set aside. In the bowl of an electric mixer fitted with the paddle attachment, combine the butter with both sugars; beat on medium speed until light and fluffy. Reduce speed to low; add the salt, 1/4 cup water, vanilla, and eggs. Beat until well mixed, about 1 minute. Add flour mixture; mix until just combined. Stir in the chocolate chips. (Instead of the whole 1/4 cup water, I used 3 tsp. of water and 1 tsp. or half and half)
Drop heaping tablespoon-size balls of dough about 2 inches apart on baking sheets lined with parchment paper. (These cookies DO spread out, which is what makes them so amazing! I only put 6 on each cookie sheet.)
Bake until cookies are golden brown 12 to 15 minutes. Remove from oven, and let cool on baking sheet 1 to 2 minutes. Transfer to a wire rack, and let cool completely. (For me, 11 minutes was the magic number!)
Store cookies in an airtight container at room temperature up to 1 week.
Enjoy, and stay safe!