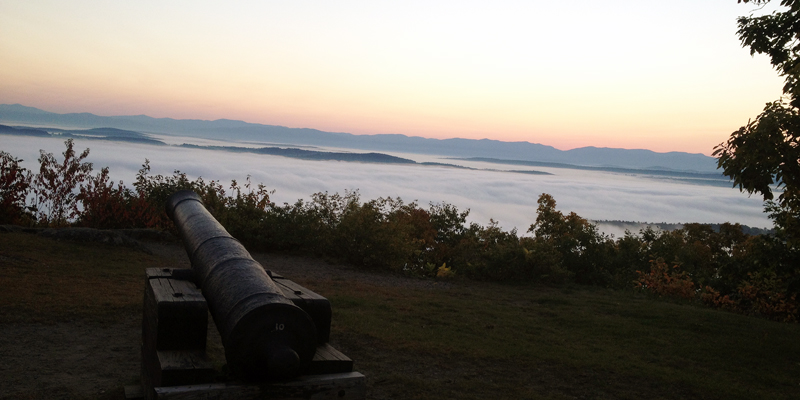 Memorial Day In Ticonderoga, Hague, Crown Point NY
Memorial Day is a special time of the year where we remember those who have given the ultimate sacrifice for our country…particularly in our historic region. It's a great time to engage with your community, show your support for veterans, as well as celebrate and appreciate the freedoms we all enjoy with your family and friends. (Learn more about the history of Memorial Day here, as well as the Ticonderoga in US Naval History)
If you're looking for some fun things to do this Memorial Day weekend, there are plenty of events  the entire family can enjoy. Below is a list of some of the events happening around Ticonderoga and Southern Champlain Valley region on Memorial Day weekend.
Memorial Day Parades & Ceremonies
Crown Point Memorial Day Celebration
149th Memorial Day Celebration – "Honoring Crown Point Ironville History"    
Saturday, May 27th:  
1st annual 10k & 5k run and 1m walk from the Historic Hamlet of Ironville to the Town Park.  Registration is from 7:30 – 8:30 AM at Veteran's Park. The race will begin at 9:00 AM. Participants will take a bus to their starting location. Pre-registration suggested, please call 518-597-9297.
Crown Point Town Garage Sale in front of Crown Point Redemption Plus from 9:00 AM to 5:00 PM. Local community members can register by calling 518-216-4057 and speaking to Brooke at Crown Point Redemption Plus.
Sunday, May 28th:        
9:30 am:  Ecumenical Church Service at the Band Stand
12:00 pm:  Park opens w/rides, food, vendors
12:00 -4:00 pm: Crown Point Food Pantry Food Drive & Raffle
12:00 -5:00 Penelope the Clown (sponsored by Ticonderoga Federal Credit Union)
2:00 -5:00 "Stone Rose" – Live Music
6:00 -9:00 "North Country Travelers"– Live Music
Dusk:  Grand Fireworks Display over the park
Monday, May 29th:
9:00 am -12:00 pm: Solemn Cemetery Tour
1:00 pm: Park opens w/rides, food, vendors
1:00-5:00 pm: Penelope the Clown
2:00-6:00 pm: Crown Point Food Pantry Food Drive & Raffle
2:00 pm:  149th annual Memorial Day Parade
3:00 pm: Parade Band Demonstration in park
4:00-6:00 pm: "Grit-N-Whiskey" – Live Music
6:00 pm: Park Closes
Note: all events in Crown Point will take place in Veteran's Park in Crown Point, NY unless otherwise indicated. For more information on the Crown Point Memorial Day Celebration or to contact the committee please visit their Facebook page.
---
2017 Memorial Day Parade in Hague NY
The Memorial Day Parade in the Town of Hague will be held on May 27th, 2017.  Hague Town Beach Park (9060 Lake Shore Dr, Hague, NY 12836)
A full day starting with a day of fun and vendors in the park, followed by a parade at 2:00 pm. There will be a memorial service for veterans following the parade as well as Chicken Barbecue at the Hague Volunteer Fire Department from 3:00 – 4:00 PM. For more information on the Hague Memorial Day Celebration contact the Town of Hague at 518-543-6161.
---
2017 Memorial Day Parade in Warrensburg NY
The Warrensburg Memorial Day Parade will be held on Monday, May 29, 2017 at 9:00 AM. The parade will begin at the Warrensburg Firehouse on Elm St.
---
Navy Memorial Ceremony
On Monday, May 29th there will be a special Navy Memorial Ceremony held at Veteran Parks on River Street in Warrensburg. The ceremony will begin at 7:30am.
---
Memorial Day Events
Fort Ticonderoga
Join Fort Ticonderoga on Memorial Day weekend, May 27-29, to remember the service of the armed forces of the United States on the very grounds where so many American soldiers fought and sacrificed. Discover the story of the American Army in 1776, rebuilding itself and digging in at Ticonderoga to defend liberty during living history programs throughout the weekend.
A full line-up of activities and programs offered throughout the weekend include daily tours in the fort, King's Garden, and museum exhibition spaces; historic trades programs; ongoing soldiers' life programs; weapons demonstrations; the Mount Defiance experience; and the Battlefield hiking trail.
On Saturday and Sunday, enjoy boat tours aboard M/V Carillon and sail the same shores of Lake Champlain that American sailors did in 1776. Join Fort Ticonderoga on Monday to remember the sacrifices of American Soldiers during a patriotic ceremony at 11:00 AM.
For the full schedule, click here. A 10% general admissions discount will be given to active duty military members with proof of service for this special weekend event. For more information contact Fort Ticonderoga at 518-585-2821 or visit.
The Great Adirondack Garage Sale
The Great Adirondack Garage Sale will be held Friday, May 26th through Sunday May 28th, throughout towns in the Adirondacks. You'll find garage sales all day long across the region from Malone, Long Lake, Indian Lake, Old Forge and Inlet. Hunt for treasures and fun finds at your leisure. Maps with the participating garage sales will be available on May 26th at the opening of business hours at town offices.
Little Champ Day Care Rummage Sale
Little Champ Day Care is having a 3 day rummage sale on May 27, 28, 29 2017, from 8 am to 3 pm. Stop by and find that treasure- there will be things for the whole family! Simply make a donation to the Little Champ's Day Care for any item you want to take home- you decide the price!
---
Things To Do
Sometimes, the most memorable events are the ones you create with your own family, and there are plenty of things to do off the beaten path in our region! Memorial Day weekend is a great opportunity to spend some quality time with family and friends, and has often been considered the unofficial start of summer. Time to break out the white pants!
Have a Barbecue
A good old fashioned Barbecue is one way that many celebrate this holiday. Whether you host one, or a family member or friend does; sharing good food and good company is a perfect way to celebrate. To keep costs down you could do a pot luck style barbecue, where everyone brings a favorite dish, salad or snack to share.
Go On A Picnic
If you're looking for something a little more intimate to do with your family, going on a picnic is a simple but fun idea. Grab a blanket, pack some summer salads, sandwiches and snacks and head to Bicentennial Park,  climb Cook Mountain, or just chill out in your own backyard! Bring along some sports equipment, card games, or play a game of charades to help keep everyone entertained and enjoying themselves.
Explore!
Check out these 10 Free Things to do in Ticonderoga, and add your own to the list!  These are all classic, family friendly ways to celebrate this holiday and making the most of the long weekend.
However you celebrate, we hope you have a happy and safe Memorial Day In Ticonderoga, Hague, Crown Point, Southern Champlain Valley
Related Posts: