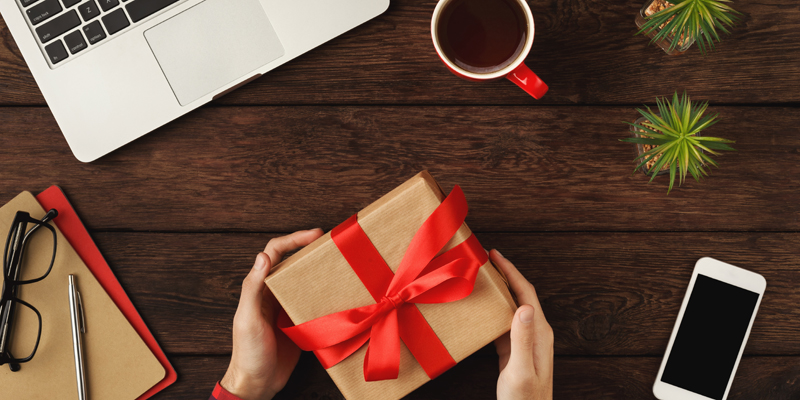 Gift giving in the workplace can be tricky…it can be fun, but it may also cause some unnecessary financial concern, and be a real source of stress.
You know that when the holiday season rolls around, the gift list begins to grow a life of its own.  In addition to your family, close friends, the paper boy, the sitter and the mailman, the list seems endless and daunting. Do you really have to give gifts at work too? If so, what is appropriate?
Many companies create guidelines for office gift giving, but every company, business or professional environment is different.  Some may have a dollar limit per gift, some may not. Some may set up the gift exchange, and others may leave it up to the individual. No matter how it is addressed, there are some ways you can keep the office holiday manageable:
Set a budget: This is job #1! Sometimes it's easy to get carried away, thinking someone else will get you something more expensive. Don't fall into that trap…no need! Decide how much you can afford to spend, and stick to it. You can always get a nice bottle of wine, or special food item at a reasonable cost.
Be creative: Forego the traditional coffee mug or picture frame for something a little more unique. Consider your co-worker carefully: are they left-handed? They might like a pair of left-handed scissors, a pencil sharpener, or some left-handed notebooks. Do they have a pet they talk about all the time? Gourmet dog treats or some four-legged 'bling' will be sure to bring a smile. Small, thoughtful Adirondack gifts are always welcome. How about a hand-made Christmas ornament, a candle, or  some special candy?
Give the gift of giving:  Present your colleague with a certificate that shows you have volunteered to do some holiday community service in their name, or have donated to a charitable cause you know they support.
Be Thoughtful: If you have racked your brain and still don't feel comfortable with your gift ideas, your time is the most valuable of all. Create a hand-made gift certificate offering to cover a shift for them…to take over coffee-pot duty, kitchen duty, or to cover some general task for which everyone has shared responsibility.
Whether you work in a setting with two or twenty, the subject of gift giving is likely to arise throughout the year – not just during the holiday season. Events like gift exchanges can be fun, a lighthearted way to get to know your co-workers and make inroads with individuals you may have not had the opportunity to get to know.  Don't let it stress you out!
No matter what the policy in your place of work, you should never feel pressured to participate. If you are absolutely dead-set against it, say so – in as gracious a manner as possible.
You may also like: