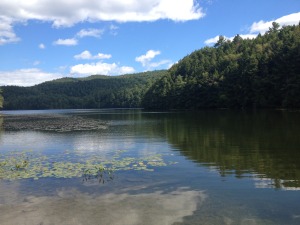 Ticonderoga, coined from an Iroquois word meaning, "land between two waters," is located between two large, beautiful lakes: Lake Champlain and Lake George. Their reputations precede them as vacation hotspots, as well as being great fishing, boating, swimming lakes. But what you may not know, is that Ticonderoga is surrounded with small, pristine, and lesser-known lakes and ponds and some of them are virtually untouched!
If you enjoy hiking, you're in luck! Many of these small ponds can be accessed by trails (and some of them can ONLY be accessed by hiking trails). So if you enjoy paddling, fishing, or hiking, be sure to check out these quiet and secluded lakes and ponds for a genuine Adirondack experience!
Whether you're a fisherman, camper, boater, hiker, swimmer, or just love to enjoy scenic views, the Ti, Crown Point, Hague, Silver Bay, Port Henry, Moriah and Putnam Station areas are calling your name! From huge bodies of glacial waters like Lake Champlain and Lake George, to local and regional treasures like Eagle Lake, the LaChute and Putnam Pond, there are plenty of places and ways to play!
Fort Ticonderoga Ferry:
Take a ride on this historic cable ferry. The ferry runs seasonally from the short near Fort Ticonderoga, to Shoreham, Vermont. Quaint, scenic, low key and fun for the family. Learn more about the Fort Ticonderoga Ferry.
Area Lakes:
Lake Champlain
Lake George
Eagle Lake
Paradox Lake
Friends Lake
Brant Lake
Indian Lake
Pharaoh Lake
Area Ponds:
Round Pond
Barnes Pond
Lost Pond
Bear Pond
Putnam Pond
Bloody Pond
Burge Pond
Chapel Pond
Springhill Pond
Courtney Pond
Crab Pond Goose Pond
There are many choices for lodging in Ticonderoga. Check out our listings of campgrounds, cabins, hotels and motels, and bed & breakfasts in the Adirondacks and Champlain Valley.