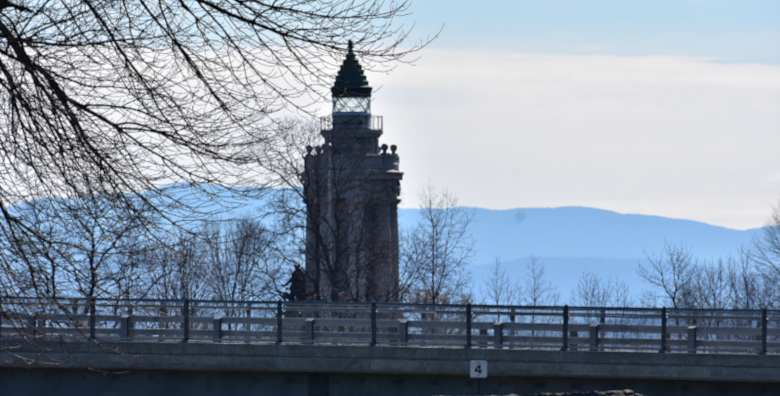 Our Ticonderoga travel guide includes some cool off the beaten path sights, sounds and senses. Here we share some lesser-known or unique visitor destinations in the Ti region.
King's Garden at Fort Ticonderoga: One of the oldest cultivated landscapes in America. Explore the brick pathways in the colorful colonial revival garden made for the Pell family in the 1920's. 

Feeling romantic? Visit the Covered Kissing Bridge!  The Kissing Bridge is a steel stringer bridge near the Falls of Clarion. The bridge was covered in 1994 by the local Elks Club and the US Army.  Located .7 miles west of Fort Ticonderoga.
Lake Champlain Memorial Lighthouse: This lighthouse has been overlooking Lake Champlain since 1858. You can actually still climb it, and stroll the pier. Fun thing to do.
Ticonderoga Heritage Museum:  Located in the historic "1888 Building" in downtown Ticonderoga, this museum is filled with information and facts about the history of the International Paper Company, the American Graphite Company (makers of the famous Dixon-Ticonderoga pencils we all know and love), and other industries of the area.  Definitely a neat visit!
Ticonderoga Dog Park: Now your best friend can enjoy a run and some exercise at the Ticonderoga Dog Park!  This is actually a great dog park, with lots of room and plenty of green.
Cook Mountain: This is a great off-the-beaten-path hike that is actually right off Baldwin Road in Ticonderoga….about 1.3 miles. The first part is easy, second part is steep.   Read the Cook Mountain trip report here and see some pics from the summit.
Penfield Museum: Located in Crown Point is "The Birthplace of the Electric Age" and the heart of iron mining in the Adirondacks. Being at Penfield is like stepping back in time.
Grace Memorial Chapel: Located in Silver Bay, this chapel dates back to 1884 and was the work of Wiliam B. Tuthill, the designer of Carnegie Hall. Learn more about Grace Memorial chapel here.
Hague Historical Museum: The Hague Museum is filled with neat local history, including the unusual story of "George the Monster". a fabricated  (learn about George here) character with a whole lot of lore to share. You can see George on display at the museum.
Elephant Rock: Elephant Rock is located on Route 8 Graphite Mountain Road in Hague. This is a natural rock that looks like..an elephant!  Just a cool thing to point out to the kids if you're in the area.
Belfry Mountain Fire Tower in Moriah is the shortest and easiest Adirondack fire tower hike. Click here for directions and info!
More things to do in Ticonderoga: