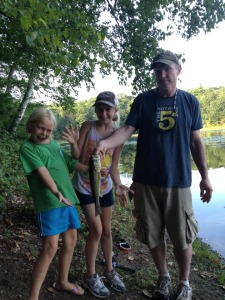 Whether you like to fish off a boat, on the shore, or in a shanty, opportunities for fishing in Ticonderoga NY are abundant. Bordered by Lake George to the south and Lake Champlain to the east, both lakes are well-known for their large supplies of Small and Large Mouth Bass, Lake Trout, Northern Pike and Perch.
The Ticonderoga Boat Launch on Lake Champlain is a popular fishing area (and the site of several bass tournaments every year), along with Lapham's Bay, Gourlie Point, and Buoy 39 Marina. Fish Lake George from the Hague boat ramp, just a few minutes south of "Ti" on route 9N, or from Mossy Point boat launch in Ticonderoga.
Lake George and Lake Champlain are not the only fish-filled lakes around Ticonderoga. For more information, check out Ticonderoga Lakes and Ponds!