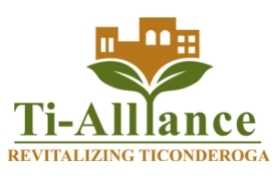 Ticonderoga Revitalization Alliance is a non-profit 501c3 local development corporation (LDC) whose mission is to restore economic prosperity in the Ticonderoga region by serving as a catalyst for innovative ideas and resources, and for public-private partnerships and investment opportunities.
WHO THEY ARE
The Ticonderoga Revitalization Alliance utilizes the tools available to an LDC to promote public and private partnerships that create career opportunities, expand business opportunities, and build community in order to bring the vision of a revitalized Ticonderoga Area to life.
CREATING CAREER OPPORTUNITIES
Ti-Alliance partners with employers, schools, and other organizations to create career
opportunities in the community. The Alliance secures grants to fund vocational training through the CV-TEC program for the Ticonderoga Central Schools District. It also provides career training tools, such as The Quick Reference Guide to Skilled Career Programs, to support school counselors and students. Ti-Alliance creates programs to connect students with career training through employment opportunities as well. These include the popular Students in the Field Program and Summer Intern Program. The Students in the Field Program brings students to job sites, where they explore various occupations and connect with local employers. The Alliance also maintains the Trade Education Scholarships Fund to invest in the future of our youth and awards scholarships to local students each year.
EXPANDING BUSINESS OPPORTUNITIES
Ti-Alliance brings public and private investment resources together to develop projects that
expand business opportunities. The Alliance develops vacant buildings, supports entrepreneurs, connects with other economic developers, broadens the discussion of economic development in the community, develops research projects, and more to support sustainable business in the Ticonderoga Area. Ti-Alliance also maintains the Opportunity Page. The page showcases real estate, business, and professional opportunities to encourage people to live, work, and thrive in the Ticonderoga Area.
BUILDING COMMUNITY
Ti-Alliance builds community by promoting projects that enrich the lives and prospects of the people in the Ticonderoga Area. Whether it's spurring business growth and employment, spurring education, promoting the arts, sponsoring performances, or helping local government administer projects through the code enforcement office, Ti-Alliance has accomplished those things by helping others achieve their goals.
TI-WORKS CO-WORKING SPACE
The Ti-Alliance office exists as part of the Ti-Works Co-Working Space, located in Downtown Ticonderoga. Ti-Works opened its doors to remote workers in 2020 and has been serving the community ever since. The co-working space includes eight desks, a private room with a desk, a conference room with seating for six, a kitchenette, an ADA accessible bathroom, and a common lounge space. Remote workers from around the world come to Ti-Works for a quiet, professional place to work with reliable internet and phone service.
SHARE THE VISION
Share the vision and contact Ti-Alliance about revitalizing the Ticonderoga Area! Visit the
Ti-Alliance website for more information on their projects and mission, and follow them on
Facebook and Instagram for regular updates.