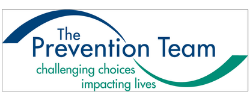 The Substance Abuse Prevention Team of Essex County, Inc., dba "The Prevention Team," is a private, not-for-profit 501.c.3 corporation. We are the County's primary contracted provider of substance abuse prevention services for Essex County schools and communities. We offer an array of evidenced-based and locally developed prevention programs that increase protective factors and decrease risk factors associated with youth substance abuse and other high-risk youth behaviors – to support healthy youth development. We work with communities interested in organizing to address local concerns relating to prevention, early intervention in substance use, and programs that support parents and healthy lifestyle choices for adults.
Currently there are local prevention coalitions in Ticonderoga and Lake Placid/Wilmington. We connect with and support both the substance use dependency treatment providers and mutual aid self-help recovery groups in the local area, county and region.
In our culture of instant online information, the ability to connect with people, groups and products worldwide, and confusing messages about personal identity, families, young people and communities need a source of trustworthy information and dialogue relating to choices that will impact their lives both in the short and long term. We can be that source – contact us at (518) 585-7424 Ext. 103!