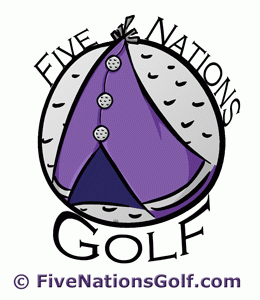 Five Nations Golf is a comprehensive Golf Center on the north end of Lake George in the heart of the Adirondack Park, near the site where Roger's Rangers fought the renowned Snowshoe Battle.
We feature a full driving range with full service golf ball machine, snack bar, and 18 hole miniature golf course. We also hold Golf Clinics, an annual Junior Golf League, and various Special Events.
In addition, we have Season Range Memberships! Please visit our Rates & Specials webpage and sign up today!
Driving Range Hours: Open sunrise to sunset
Mini Golf Hours:
Now thru Late June : Open Weekends
Regular Season: 7 days a week, 10 am to 8 pm
We also do individual or group lessons!
Five Nations was the name given to this property as a private club under the ownership of the legendary Mike Hayes. Mike was a dear friend to Ticonderoga, Ticonderoga Country Club. He chose the name Five Nations in reference to the Five Nations confederacy of Iroquoian indians that consisted of the Mohawk, Oneida, Onondaga, Cayuga, and Seneca that played such a pivotal role in our nations history including the "Battle on Snowshoes" that took place in our back yard.