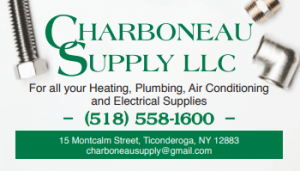 Charboneau Supply, LLC recently opened in Ticonderoga, NY. The company is owned and operated by Nate Charboneau, who also owns and operates Champlain Valley Heating, Plumbing, & Electric which has been serving the Ticonderoga region since 1985.
Charboneau Supply is an expansion of services and offers an array of in-stock plumbing, heating, air conditioning, electrical, and other supplies. The shop is open to professionals as well as the general public. In addition, products can be ordered if needed.
Charboneau Supply can be contacted at 518-558-1600 or at [email protected].