The Black Watch Library is a Ticonderoga treasure…a valued community resource, a public service partner in the region, and a favorite destination for kids of all ages for over a century.  We wanted to share more information about the Black Watch Library, and who better to share the past and future goals of the library than the Black Watch Library Director, Heather Johns!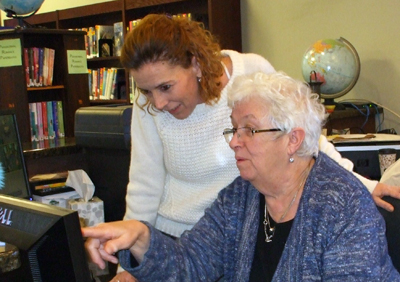 Q: How long you have lived in Ticonderoga, and how did you become involved with the Black Watch Library?

A.: My family moved to Ticonderoga in 1975. I was raised in Ticonderoga and attended St. Mary's School and Ticonderoga High School. After high school, I graduated from the College of Saint Rose in Albany, New York with my bachelor's degree in English.
After graduation from college, I stayed in the Albany area and worked for the College of Saint Rose, Bellevue Woman's Hospital and Rensselaer Polytechnic University in the purchasing field. I moved back to Ticonderoga in 2003, and worked for the Counseling Service of Addison County in Middlebury, Vermont for the Development Department.
A part-time job opening arose in 2004 at the Black Watch Memorial Library. I was hired as a part-time library clerk and continued my part-time employment at the Counseling Service. In 2006, the Library Manager retired, and I was promoted to the position. I have worked at the Library for the last ten years.
Q:  What are some of the responsibilities you have as library Director?
A:  My responsibilities include:
Work with the library board includes reporting to the library's board of trustees which has the legal responsibility for governing the library and have the following duties: administrative support to the board, board meeting preparation, relating of issues and problems arising at the library and the presentation of options and recommendations for the issues, development of policies and procedures for board review.
Public Services: I develop and oversee a variety of services designed to meet the needs of a diverse public. The board, staff and volunteers operate the library under a philosophy of service which puts the needs of library users first and responds to those needs in a positive, helpful and friendly manner. In addition to the lending of a wide variety of materials to users of all ages, the library provides reference and information services, public programming, and access to electronic information. Library services are designed to be accessible to everyone in the community including individuals with various types of disabilities.
I select a collection of library materials that meets the needs of a diverse public as part of Collection Development and Technical Services. After decisions have been made as to collection development, I purchase, process and catalog library materials. I oversee and participate in the circulation of library materials on a shared automated library system. As a member of the Clinton Essex Franklin Library System, we also share our materials with other libraries in the system.
The library has two part-time library clerks and numerous volunteers. It is my responsibility to train, supervise, evaluate and discipline according to policies.
I develop the library's budget annually and present the budget to the library board for approval. I then present the board approved budget to the Town of Ticonderoga for evaluation. Once I receive the approved budget, I manage the library's finances so that expenditures stay within the approved budget.
Develop policies and procedures for the library
I am responsible for the initial development of policies for consideration by the library board and for creating procedures to administer these policies effectively
Plan for the library's future
Advocate and promote the library
Manage the library facility
Prepare statistics for annual report
During my tenure at the library, we have seen some major changes. In 2002, we started the process of automation (full inventory and barcoding of 15,000 records). All of the library's holdings had to be entered into the system database for cataloging. This process took a couple years. Once all of our records were automated, we began work on our expansion which doubled the size of the library and was completed in 2009.
Q: How is the library doing regarding patrons and facility activity?
A:  Our library is a busy place and we see a steady stream of people every day. We have approximately 30,000 library visits per year. We also circulate roughly the same amount of materials per year. Total reference questions average out to about 800-900, interlibrary loans received for patrons about 3,000, public computer users about 7,000. Our business seems to increase slightly each year as our transactions and visits increase with each annual report.
Q: What do you love about your job?
A: I strongly believe that community service is the most important thing I can do. Luckily for me, my talents lend themselves to library service and community service is what this job is all about. We empower people, whether it be helping them learn how to read, getting them the information they need to be well-informed voters, or helping them learn their way around the Internet. It's the most satisfying work I can imagine. Every single day I am privileged to touch someone's life. Each day is different, and every day brings people who need something to which I can be the conduit.
Q: What you would like to see happen for the library in the future?
A: A library isn't designed for the mere act of preserving books and promoting knowledge. It's the ability to consistently adapt to the changing demands of the local populace and emerging technology alike. Libraries probably won't disappear anytime soon, but rather, transform into something new and exciting to meet the needs of library users' informational demands
More technology: The most obvious direction libraries will trend involves more seamless integration of technologies at a faster, more sophisticated pace than even now. With so many exciting new gadgets and concepts such as e-book readers, tablet PCs, open source, and more,
librarians know they can still bring literature to the masses by utilizing its lust for technology.
Sensory story times: As awareness of the needs of autism spectrum and developmentally disabled children swells, more and more libraries are scheduling sensory story times making sure they get to enjoy literature in a manner most comfortable to them. We hope to include this type of programming in the future. Even mainstream children can enjoy these events, so all members of the community benefit from creating a more inclusive space.
Emphasizing community space: Programming has become an important aspect of our services. Since our expansion, more room means we can start offering a wider range of programming, serving as a community center focused on learning rather than just literature. Some of our programs include genealogy class, tai chi and needle crafting. We also have numerous children's story times during the school year and an intensive summer reading program. Libraries probably won't disappear to digitization, but their shape will likely change over time.
More social media savvy: As with the latest in literary gadgetry creeping into libraries, social media has already started ingraining itself as integral to the experience. It offers greater community outreach, promoting and answering questions about events, and provides a forum in which to share cool book news. Social media also makes it easier than ever for libraries to receive feedback about what sort of programming the community wants most, suggestions about how to improve offerings, and talks about what books need to make their way to the shelves.
More active librarians: Our roles as librarians of the future will continue to evolve and change. We will be tasked with tutoring students on their homework, teaching patrons computer basics, and many other responsibilities. This change is positive, however, as it nurtures a heightened sense of community and destigmatizes the librarian profession, painting them as neighborly mentors instead of silencing book police.
Q. Can you share any funny stories about working at the library?
A. Unfortunately, all of our funny stories may not be appropriate for sharing on the internet! An interesting fact, however…since the Library opened over a hundred years ago, I am only the tenth person to have served as library manager.
 Related Articles: