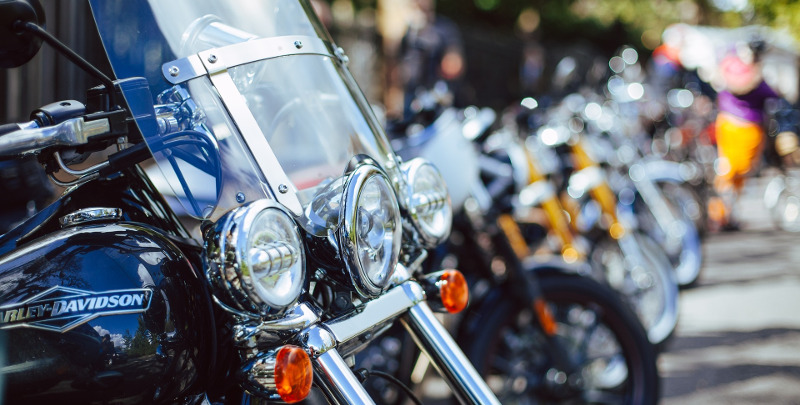 When summer starts in the Northeast, it's time for Americade! If you're one of the few people unfamiliar with Americade, it's a week-long motorcycle rally that is held the first full week of June. Tens of thousands of people come to Lake George Village each year to partake in the activities at this amazing event; to ride on the best roads in the Northeast among the scenic beauty of the Adirondacks, and check out the bikes along Canada Street.
Motorcycle routes and rides in Ticonderoga, Hague, Crown Point, Port Henry and Westport offer breathtaking views, unique and memorable events and activities, and an opportunity for riders to get to know the warm and welcoming people of the Southern Champlain Valley.
The Americade Experience
Americade began in 1983, with an event at the Roaring Brook Ranch. Organized by Bill Dutcher, it was originally called "Aspencade East".  Just three years later in 1986, the show had garnered such immense success it had become a multinational rally with an attendance totaling over 15,000. That year it was renamed Americade Lake George.
Not only has Americade become one of the world's largest multi-brand motorcycle touring rally, it is known for being very well organized. Americade has the most factory demos at any event in the United States, and it's Expo is the largest concentration of motorcycle vendors in a single location in the U.S.  There are university seminars, riding events, contests and multiple kinds of guided and unguided tours to partake in. You'll also see stunt shows and other exciting performances like the Northeast Drill Team practices and Championship event.
Americade has everything a bike lover could want, and there are lots of fun activities for spectators and their families. Throughout the week there will barbecues, dinners, and parties, live music with the Americade concert series, comedy shows, boat cruises and more.  As well as the many local attractions Lake George has to offer.
For a full list of Americade activities, check out the full schedule of the week's events.
Americade Rides
If you'll be bringing a motorcycle to ride at Americade, here are a few of the local rides that are offered:
Adirondack Gateway
Tuesday 6/ 6 – Friday 6/9
Type: Guided
Distance: Approx. 190 miles RT
Departure Location: Beach Road Lot
Departure Time: Riders meeting at 7:40 am. Departure begins at 8 am
Return: Approx. 4 pm
This tour goes on what are considered to be some of the best motorcycle roads in the Adirondacks, and takes you to the beautiful "Gateway of the Adirondacks". You'll be in for beautiful lake views on the roads that wind around Sacandaga Lake, and brilliant countryside with old mills and other sights.
For lunch, you'll stop at the oldest continuously operated restaurant in New York. It's a charming place that used to be an old stage coach, and serves up tasty comfort food. Lunch will include their Famous Fried Chicken, Baked Ham, Creamed Potatoes, Baked Onion Casserole, Corn Fritters with Maple Syrup, and more.  (More info here)
Short Loop With A Twist
Tuesday 6/ 6 – Friday 6/9
Type: Guided
Distance: Approx. 135 miles RT
Departure Location: Beach Road Lot
Departure Time: Riders meeting at 7:40 am. Departure begins at 8 am
Return: Approx. 3 pm
Brand new this year, this packed short tour rides along the west coast of Lake George. You'll be led North in the Adirondacks on winding, shoreline roads. You'll ride past 5 Adirondack Lakes so there will be plenty of spectacular views along the way.
Lunch is at a very fun, out of the way restaurant you would likely never find on your own. It's filled with Adirondack canoes, wagon wheels, signs and other interesting devices. Lunch menu includes: Mediterranean Chicken, Pasta and Fresh Vegetables, Blackened Tilapia with Mango Salsa, and Beef Bourguignon. About an hour after lunch, you'll stop at an Adirondack ice cream parlor before the short scenic ride back to town.
Top of the World With Freedom Pass
Tuesday 6/ 6 – Friday 6/9
Type: Un-Guided
Distance: Approx. 237 miles RT
Departure Location: Beach Road Lot
Departure Time: At Your Leisure, 8:00am suggested
Return: At Your Leisure
This tour is an Americade favorite. It travels along the lake shore to the tallest mountain in the Adirondacks, Whiteface Mountain. There are incredible views the entire way. At the summit on a clear day you can see Vermont and Canada. Unique to Whiteface Mountain, on the summit you'll find a castle built from stone, an elevator carved deep into the mountain as well as a restaurant and gift shop! Above all, the 360 degree views of the incredible beauty of the Adirondacks are on full display.
Lunch will be at a local favorite BBQ House in Lake Placid where everything is made from scratch.
To see a full list of all available rides, click here.