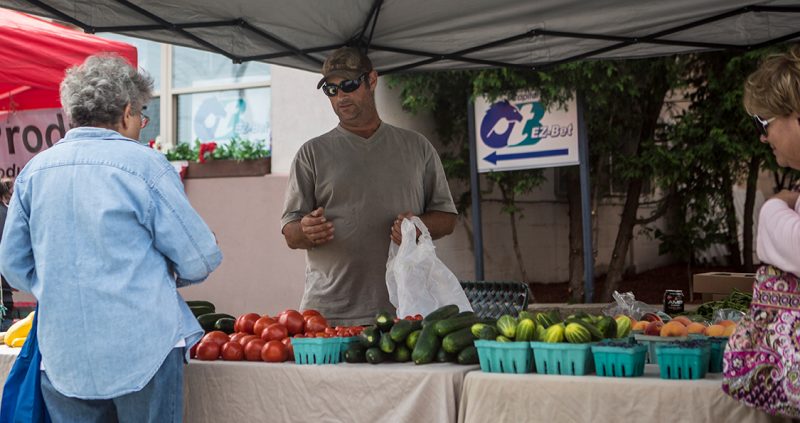 What: 2018 Ticonderoga Farmers Market
Where: Wicker Wood (1114 Wicker Street) near the Walmart entrance
When: Saturdays from 10AM to 1PM – July 7th through mid-October
It's that glorious time of year when fresh fruits, vegetables and products are once again available at the Ticonderoga Farmers Market. Put it on your Saturday morning calendar to come browse a variety of fresh local fruits and vegetables, meats, eggs, honey, maple syrup as well as local products and goods! On July 28th, the Market moves downtown to participate in Ticonderoga's annual StreetFest.
"The farmers' market is embarking upon its 5th year revival and has many entities to thank for its continued growth. Firstly, the farmers and vendors are paramount to the success of the market, proudly sponsored by the Ticonderoga Area Chamber of Commerce.  Support from the Town of Ticonderoga, International Paper Company, Stewarts Shops, Clinton & Essex County Creating Healthy Schools and Communities programs, Geraws OK Septic Service, Essex County Arts Council – CAP Grant, Ticonderoga Cultural Arts initiative, Carol and Rick Ramundo and others have provided our infrastructure and has been invaluable.  Grant awards have underwritten musical entertainment and children's projects throughout the market season. Our market thrives surrounded by these advocates who have a deep sense of community and for whom we have much gratitude," – Jane Curtis, Ticonderoga Area Farmers Market Advisor
Farmers, vendors, businesses, local artists and organizations interested in participating in the market contact the Chamber Office. For more information visit www.ticonderogany.com, the Ticonderoga Area Farmers Market or Ticonderoga Area Chamber of Commerce facebook page. You can also call 518-585-6619 or email at [email protected].